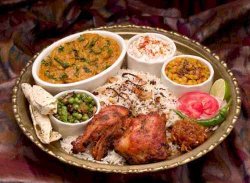 While the Buddha usually ate very modest food or even scraps, when invited to the home of a wealthy person for a meal he would eat 'fine rice with the black specks removed together with a selection of sauces and curries' (M.II,7).
The Buddha suggested to his disciples that they recite these words as a reflection before eating: 'We will eat in moderation. Reflecting wisely we will not eat for fun, for amusement or for physical attractiveness but only for the maintenance and continuance of this body, for allaying the discomfort of hunger, for assisting in living the holy life and with the thought "I will end the old desires and not give rise to new ones and thus be healthy, blameless and live in comfort."' (M.I,273). A longstanding Buddhist tradition says that one should stop eating when another four or five mouthfuls or two or three glasses of water would fill the stomach (Th.983; Vis.33).
Food and Drink in Ancient India, Om Prakash, 1961.